Primul zbor A330neo – Good job, guys! (foto / video)
Pe 19 octombrie, Airbus a mai scris o filă în cartea de istorie a aviației. Primul A330neo a operat cu succes primul zbor!
Aviația este un domeniu dinamic. Sute de companii aeriene operează zilnic mii de aeronave și transportă milioane de pasageri, totul într-o deplină siguranță.
Presiunea pe costul de operare este tot mai mare, iar companiile aeriene transferă această presiune pe producătorii de aeronave. Aceștia trebuie să scoată avioane cât mai fiabile, cât mai sigure, mai eficiente, totul la un cost de operare/scaun cât mai mic.
Primul zbor A330neo
Ready to power into the future! Relive the first flight of Airbus' newest aircraft: the #A330neo. #A330neoFF pic.twitter.com/BIfPWRsJL6

— Airbus (@Airbus) October 19, 2017
Dacă la partea de siguranță, fiabilitate, interior și confort lucrurile sunt relativ simple, la partea de optimizare costuri de operare lucrurile se complică.
Airbus A330neo este un avion nou, care vine la pachet cu fiabilitate, siguranță, confort sporit pentru pasageri, totul la costuri de operare mai mici.
La scăderea costurilor de operare au contribuit substanțial noile motoare Rolls-Royce Trent 7000, noile aripi cu aerodinamicitate mai bună, dar și tehnologiile de ultimă generație preluate de la Airbus A350 XWB.
Pe 19 octombrie 2017, primul Airbus A330neo (MSN1795) a operat primul zbor! S-a desprins de la sol la ora 09:57.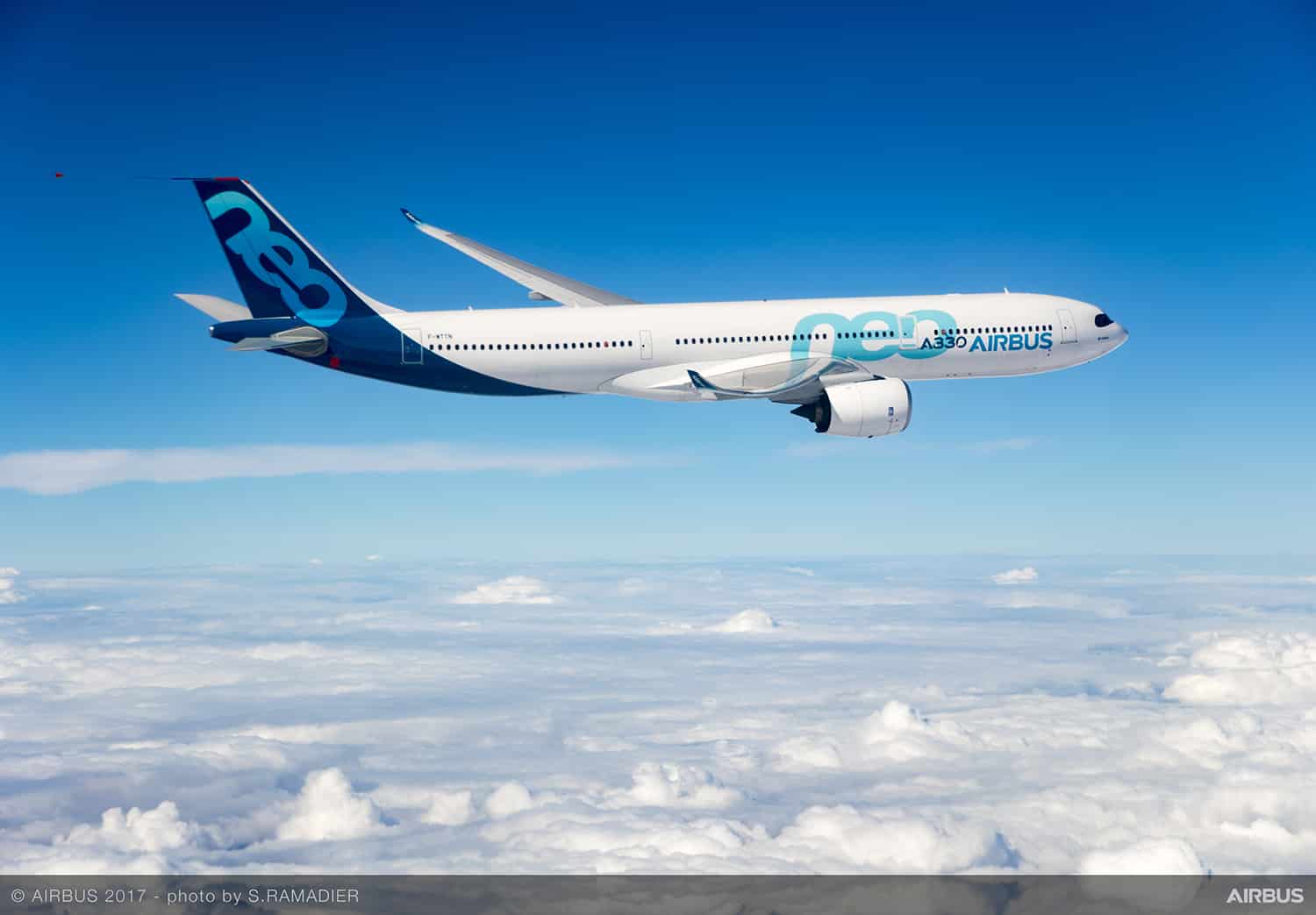 Zborul a durat 4 ore și 13 minute, timp în care aeronava Airbus A330-900neo a zburat în sud-vestul Franței. Acest zbor a validat munca inginerilor implicați în dezvoltarea familiei de aeronave A330neo.
Primul A330-900neo va intra în serviciul operațional până la jumătatea lui 2018. Va oferi cel mai mic cost operațional/scaun la clasa aeronavelor cu 300 de pasageri, continuând astfel succesul modelului A330-300.
Familia de aeronave A330neo va cuprinde 2 modele: A330-800neo echivalentul modelului A330-200 din prezent; A330-900neo echivalentul modelului A330-300 din prezent.
Ambele modele din familia A330neo vor fi propulsate de motoarele Rolls-Royce Trent 7000. Vor veni echipate cu noile tehnologii împrumutate de la A350 XWB, cu noile interioare "Airspace by Airbus".
Dacă luăm în calcul familiile de aeronave Airbus A330neo și A350 XWB, putem spune că producătorul european de aeronave oferă o gamă variată de avioane cu capacități de transport cuprinse între 257 de pasageri și 366 de pasageri.
Până în prezent, 12 clienți au comandat 212 avioane din familia A330neo! TAP Air Portugal va fi clientul de lansare pentru familia de aeronave A330neo.