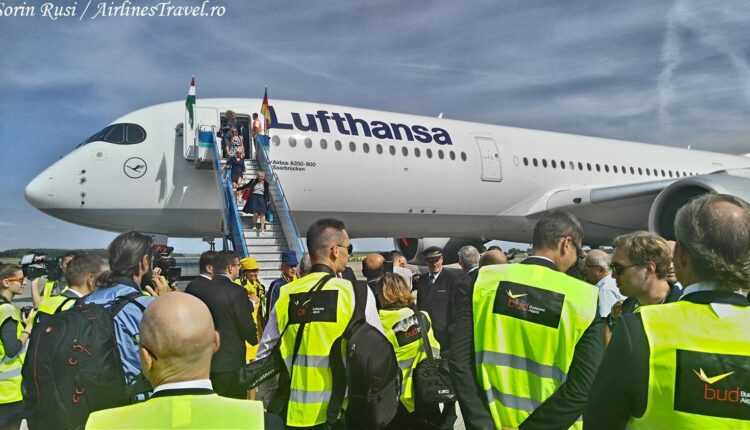 La bordul aeronavei Airbus A350-900 (D-AIXC) Lufthansa (Foto / Video)
Pe 8 septembrie, la invitația Lufthansa, am participat la un zbor demonstrativ, la bordul aeronavei Airbus A350-900 (D-AIXC). A fost un zbor operat pe ruta Munchen - Budapesta.
Ziua de 8 septembrie aduce câteva premieri în palmaresul AirlinesTravel. Pentru prima dată, am zburat la bordul unui avion Airbus A350-900 Lufthansa. Și tot pentru prima dată, am zburat la Budapesta.
Poate vă întrebați de ce un avion dedicat zborurilor lungi a operat acest zbor scurt între Munchen și Budapesta. Răspunsul e cât se poate de simplu. Lufthansa a sărbătorit 50 de ani de zboruri din/spre Budapesta. Evenimentul a fost sprijinit de Aeroportul Internațional Budapesta, de Lufthansa și Lufthansa Technik.
Pe lângă zborurile comerciale spre Ungaria, Lufthansa a dezvoltat la Budapesta și un centru Lufthansa Technik, care asigură întreținerea aeronavelor de tipul Airbus A320, Boeing 737 etc.. Cam acesta este și motivul pentru care Lufthansa a ales să zboare cu A350-900 la Budapesta, nu la București.
După cum puteți remarca, transporatorul aerian german a zburat cu A350 la Budapesta și cu A380 la Sofia, 2 capitale europene aflate în vecinătatea României. În ambele destinații, există centre Lufthansa Technik și sprijin al autorităților locale. Când vom vedea un asemenea eveniment la București? Când se va dori!
Poate vă întrebați de ce 2 jurnaliști de aviație din România au participat la un eveniment Lufthansa la Budapesta. Am participat pentru că evenimentul de la Budapesta a marcat într-o mică parte și aniversarea celor 50 de ani de zboruri din/spre România.
Zborul cu A350-900 Lufthansa
Dar să revenim la zborul cu A350-900 Lufthansa. Începem cu începutul. Ziua de 8 septembrie a debutat cu primul zbor, care a fost pe ruta București – Munchen. LH1657 a fost un zbor matinal, care ne-a facilitat să vedem răsăritul de la 10 000 de metri. A fost un zbor de aproximativ 1:45 ore, foarte lin și plăcut.
Am aterizat la Munchen la 07:13. Am zburat la bordul unui Airbus A321-100 (D-AIRB). Este un avion cu vârsta de 23.8 ani, dar foarte bine întreținut. Așa cum am spus de multe ori, vârsta unui avion nu influențează calitatea zborului. Dacă avionul este întreținut foarte bine, cu toate upgradeurile la zi și în conformitate cu normele aeronautice, nici nu veți simți vârsta avionului.
Aeroportul München Franz Josef Strauß
După aterizarea la Munchen, am poposit câteva zeci de minute în Lufthansa Business Lounge, timp în care ne-am relaxat în așteptarea turului de aeroport. În mai 2015, Aeroportul München Franz Josef Strauß a primit 5 stele Skytrax, fiind primul aeroport în afara Asiei care a primit acest calificativ. Totodată, în 2017 a fost desemnat pentru a 10-a oară "Best Airport in Europe". Un subiect pe care-l vom dezvolta într-un alt articol.
Aeroport Munchen T2-T2 Satelit
Prev
1 of 5
Next
Lufthansa First Class Lounge
Prev
1 of 6
Next
După turul de aeroport, care a cuprins și vizitarea unui Lufthansa First Class Lounge, ne-am îndreptat cu toții spre poarta de îmbarcare K15, la capătul căreia ne-a așteptat Airbus A350-900 (D-AIXC). Acesta este unul dintre aeronave A350 XWB, care sunt programate pentru baza Lufthansa de la Munchen.
Botezat "Saarbrücken", avionul a fost livrat pe 1 aprilie. Este configurat în 3 clase: 48 de locuri la Business Class, 21 de locuri la Premium Economy și 224 de locuri în Economy Class. Noi am avut locul 29A, un loc la Economy Class.
Airbus A350-900 Lufthansa
Prev
1 of 8
Next
Zborul a durat aproximativ o oră, un timp mult prea scurt ca să putem face un review complet asupra confortului oferit de avion, dar prima impresie a fost una wow. Pot spune că A350-900 vine cu un confort sporit pentru pasageri. Nu mă refer la scaune sau cabina în care este configurat, fiecare companie aeriană având particularități.
Lufthansa Economy Class A350-900
Prev
1 of 6
Next
Însă A350-900 mi-a plăcut pentru că este silențios, cu excepția momentelor când sunt reglate flapsurile și la escamotarea trenul de aterizare. A350-900 este bine construit, tehnologizat și elegant.
La bord, lumina ambientală poate fi reglată în diferite culori sau intensități. Am avut parte și de o scurtă demonstrație de luminozitate la bord, în timpul zborului.
Reglarea luminilor din A350
Prev
1 of 6
Next
În rest, liniște și relaxare. Fiecare loc la Economy are o pernă și o păturică, iar în zbor sunt împărțite și căști pentru programul de divertisment.
Pe zborul cu A350-900, m-am jucat puțin cu sistemul multimedia. Am folosit sistemul de camere aflate pe avion și astfel am putut vedea în timp real ce se întâmplă la exterior. Există o cameră pe ampenajul vertical, una sub avion și una amplasată în partea frontală, dar în spatele trenului față de aterizare.
Serviciu multimedia la Lufthansa Economy Class
Prev
1 of 5
Next
Sistemul multimedia de la Lufthansa Economy Class este bazat pe platforma Panasonic EX3. Puteți accesa peste 100 de filme, 200 de emisiuni TV și sute de melodii. Aveți și alte opțiuni de divertisment, inclusiv jocuri. Am văzut și câteva minute din Baywatch (2017).
Înainte de touchdown, piloții au executat un low pass și un go-around deasupra aeroportului din Budapesta. A fost o senzație plăcută, un spectacol la sol și în aer. Și să nu vă panicați atunci când, în plin proces de aterizare, veți auzi motoarele turate la maxim, iar avionul se înalță pentru a executa o nouă repoziționare la aterizare.
După aterizare, aeronava a fost parcată în fața fostului aeroport din Budapesta, unde a fost întâmpinată de salutul tunurilor cu apă, dar și de privirile a sute de curioși.
Conferința Lufthansa la Budapesta
După debarcare, am participat la o conferință de presă comună, la care au luat cuvântul oficialii Lufthansa și cei de la Budapesta. Undeva, într-o frază a fost menționată și România. Apoi ne-am grăbit spre Terminalul 2A al Aeroportului Internațional Budapesta Liszt Ferenc.
Returul spre Munchen a fost pe zborul comercial LH1679, la bordul avionului Airbus A321-200 (D-AIDP). Acesta are doar 5.6 ani. A fost un zbor așa lin și plăcut încât am reușit să mă odihnesc câteva zeci de minute. Nici nu am simțit când am ajuns la Munchen.
Am revenit în cel mai frumos aeroport european, unde cel puțin T2 și T2 Satelit arată foarte bine. Nu am ajuns în T1, dar multe voci spun că încă păstrează aerul retro al epocii trecute. Ne-am odihnit picioarele într-un Lufthansa Business Lounge.
După aproximativ 4 ore, ne-am îmbarcat spre București, la bordul unui Airbus A320, care avea să opereze zborul LH1656. Totul s-a petrecut foarte repede, iar ziua noastră s-a derulat ca un flash. După aproximativ 24 de ore, eram iar acasă și derulam zborul cu A350-900.